When discussing my journey of discovery regarding mental health, the beginning is not in my childhood, with some weird Freudian reason for why I didn't get along with my parents. Yes, my childhood was super messed up, but that is not what started my journey into mental health awareness. Unfortunately, mental health issues were thrown at me in 2007 when I lost my older brother, Kevin, as a result of suicide.
Social Media Suicide
When we think about the words "Social Media Suicide," we think of the prevalence of cyberbullying and other increases in the suicide rate that could be seen as correlated with the rise in social media exposure. The words "Social Media Suicide" may even describe how someone did something on a social media site that ruined their reputation in some way. To me, these words are linked together because, on the evening of July 10th, 2007, my older brother Kevin turned his entire MySpace page into a suicide note. For many, MySpace is not a social media platform that they are super familiar with, and I think it actually has something to do with bands now?
In 2007, MySpace was possibly the leading social media platform. I learned HTML by formatting my page on MySpace. Users could choose their "top friends," a top song, and really customize their profile as if it were their own mini-website. This means when Kevin turned his page into a suicide note, he did not just post a suicide note on the popular social media network. Kevin posted a note, changed the song to "If Everyone Cared" by Nickelback, and manipulated every aspect of the page to represent his final goodbye.
Panic and Screams, then, the End of the World
I apologize that this is not all "original content" I have recounted this story so many times on my Facebook page and my Out of the Darkness Walk page that you may have read it before if you were connected to me before this blog was written. 
His MySpace Goodbye: The Loss of Kevin Rumore
I received a phone call at three in the morning on July 10th, 2007. Usually, I would have probably ignored it, but it was from my little brother Trey, and I knew something must have been wrong because Trey never called me. Panicked, Trey told me that Kevin had posted a suicide note on MySpace, and he was unable to get in touch with him. My family all lived in Alabama, and I lived in Georgia. Feeling absolutely helpless, I could only listen on the phone as my father and little brother looked for Kevin.
Fifteen years ago, I heard screams through the phone from another state, letting me know that my life would be changed forever. Fifteen years ago, I sat in a dark car trying to hold in my weeping so that my (then very small children), who had been yanked out of their beds in the middle of the night, may actually sleep on the way to Alabama instead of seeing their mother break into a million pieces. Fifteen years ago, I lost my big brother. I lost Kevin.
Saying Goodbye too Soon: The Ridiculous Notion of a "27-Club"
Kevin died on July 10th, 2007. This was 10 days before his 27th birthday. We buried Kevin on a rainy Friday, the 13th, which I think he would have found very amusing. At the family-only portion of his visitation, I tried to speak. I didn't have anything prepared, and I am still not sure if anyone could quite make out what I was trying to say through my overwhelming full-body crying, but it was something like this:
"Kevin has been here my entire life. My identity has always been tied to him, and now I don't know who I am. It was always "Kevin Rumore's Little Sister," "Kevin & Allison," or "Little Rumore." My siblings are all paired off: Elizabeth & Trey, Sarah & Jamie, and Josh & Nick, but I have lost my pair."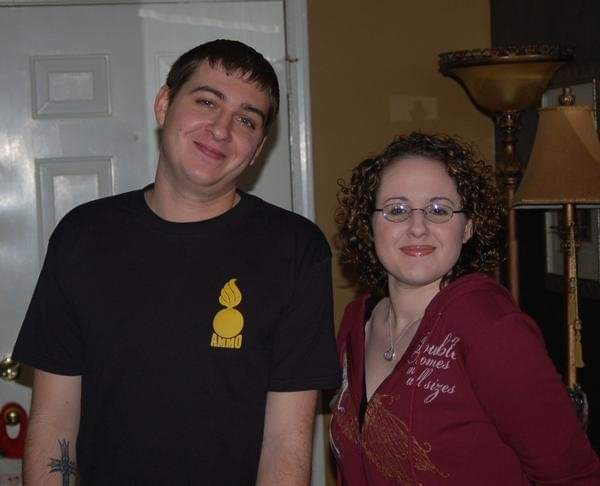 Addiction & Mental Illness
Almost everyone that met my brother loved him. He lit up a room with his sense of humor and personality, which made it even harder to understand why he took his own life. Kevin suffered silently from bipolar disorder and addiction for most of his life, which worsened after he served with the Air Force in Afghanistan and Korea. Unfortunately, the VA in Birmingham was ill-equipped at helping with his type of pain.
At the time of Kevin's death, I didn't know much about suicide, and I didn't know another soul on this earth who had been through this tragedy. What I did know was that my family was in agonizing pain, reliving those last days over and over again, angrily blaming each other and ourselves, and asking a thousand questions that all began the same way: "Why?"
While suicide is typically the result of a complicated stew of life events and circumstances, the main ingredient is almost always an underlying illness. Just as people can die of heart disease or cancer, they can die as a consequence of mental illness. The historical stigma surrounding suicide leaves many survivors of suicide loss feeling misunderstood and abandoned, yearning for comfort and understanding.
The Word "Grief" Doesn't Even BEGIN to Cover It
Fifteen years ago I didn't just grieve, I broke. The loss of my brother destroyed me, and when you have been smashed into a million tiny pieces, you can not simply "get better." You change. I think back to the person that I was fifteen years ago and I can only see shadows of who she was within the person I am today. In so many ways, I am stronger, I help people more, and I am significantly more educated.
I also consider myself a "worst-case scenario-ist". While this is not a healthy way to live, as I finally began to pick myself up off the floor, something inside of me decided to never be blindsided again. I constantly think about tragedies that could happen in life, and what steps I would need to take to get through them. While this will be discussed in a future blog post, I do feel that this constant stress I subject myself to is why I was able to help my family through the tragedy of losing my mother in 2010, and "hold it together" long enough to handle all of the arrangements that needed to be made.
"Okay Google, Tell me About Suicide"
After Kevin died, I immediately took to the internet to try and understand. I found the American Foundation for Suicide Prevention and through their website, I found a local support group. A week after Kevin died, I drove in the rain and Atlanta traffic to attend a support group for survivors of suicide loss. The group was shocked that I was there. Apparently, going to a support group where everyone is explaining the loss of their loved ones is not the greatest idea when your loss is so recent. I cried the whole time. When I told my story, I am not truly sure that anyone could understand me. Once again, trying to express something that I didn't understand, while full-body, ugly-crying. To this day, that is still the only survivor of suicide loss support group session that I ever attended.
Over the past fifteen years, I have received two degrees in psychology-related fields. I have participated and volunteered in numerous "Out of the Darkness" walks, and I talk about my losses and mental health A LOT. I have found that when you mention your experience with loss as a result of suicide, it tends to make people feel more comfortable opening up about their experiences. I have had many people that I don't know tell me in a store about a loss that they never talk about. The stigma makes it difficult to talk about suicide. The fear that someone will say "that is so selfish, you must be so mad at him", or "it is a shame that he is going to hell now" (both of which I have had people say to me) makes it so hard to connect with people about this terrible loss you are experiencing. No one can ever know exactly what anyone else is going through when they are grieving. I could meet someone that lost their brother in a very similar way, but the way we grieve will be entirely different.
How Suicide Has Shaped My Journey through Mental Health
I started with this blog because this is the story that started my journey through mental health awareness. This experience is why I am a strong advocate for suicide prevention and mental health awareness. When you look at my journey, this is the experience that led me to this moment, the one where I am starting a podcast and speaking up, speaking out!
I have seen more mental health professionals than I can count and only found the "right" person for me five years ago. I have learned how growing up in a home full of mental illness shaped so much of my life. I have learned that I suffer from PTSD from childhood trauma that was never confronted or "dealt with". I have learned that while losing my brother fifteen years ago "opened my eyes" to mental health, it has actually been a lifelong struggle for me.
How to Get Help: 911 and 988
I am not a doctor or a licensed mental health professional, I am an advocate for mental health. If you or someone you know is in crisis, call 911, or go to your nearest emergency room. 
The "Suicide Prevention Lifeline" recently transitioned to the "988 Suicide and Crisis Lifeline". 988 is a new dialing code that allows people to call or text "988" when they are in crisis. 
Check Out Our Latest Blogs
There are so many resources available for people who want to achieve greatness. These people are willing to work hard, and they want to hear tips from some of the
Share the Podcast! Facebook Twitter LinkedIn Mental Health Podcast Episode 2: Transcript Below Hello everybody and welcome back to the Allison and Wonderland Mental Health podcast.   Allison: I have Dr.
Share the Podcast! Facebook Twitter LinkedIn Mental Health Podcast Episode 1: Transcript Below Hello everybody, and welcome to the very first episode of the Allison In Wonderland podcast….   This is